Happy 2021!
I hope your new year is off to a good start!
Every year I start by looking forward – creating new goals, new challenges, new journal, new determination…
And this new year was no different.
Once again, I've chosen a word to "guide" the year – HOPE
"Hope lies in dreams, in imagination and in the courage of
those who dare to make dreams into reality."
Jonas Salk
And with all due respect to Emily Dickinson (because honestly, who am I to disagree with Emily freakin' Dickinson?!?), as much as I love her poem, "Hope" is the thing with feathers, she claims that hope asks for nothing –
"Yet – never – in Extremity, It asked a crumb – of me."
Like her little bird, hope is strong – enduring – resilient
And yet, doesn't Hope require daring, bravery, determination…?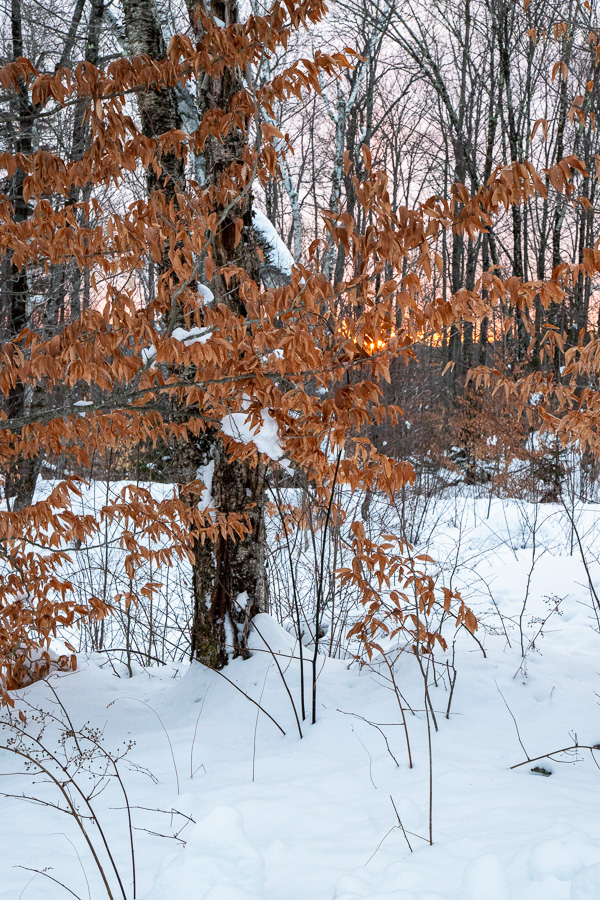 For me – yes.
My hope for 2021 – to set goals and dare to see them through, to be brave enough and determined enough to accept the outcome that comes with making dreams into reality – and keep moving forward.
My main goal for 2021
– to complete revisions on my mystery novel and get it into the hands of agents. There are many (many, many) steps between where I am now and where I need to be.
I am still in Round One of my revisions. Does it seem as though I've been here forever? Yeah, it feels that way to me, too.
In fairness, I took three months of planned breaks. I haven't given up, though, and am working my way to the end. And now, as things are beginning to click, I'm more excited than when I first started. Massive changes (which I talked about here), meant rewriting most of the book – and even completing this round will just be another beginning. Next round – descriptions and prose.
Mini-goal – to complete Round One by end-of-February – mid-March.
And, Emily Dickinson – Yes, I truly do love her poem. It has always been one of my favorites.
LOTS of smaller goals, too!
– goals for yoga, photography, art journaling, reading…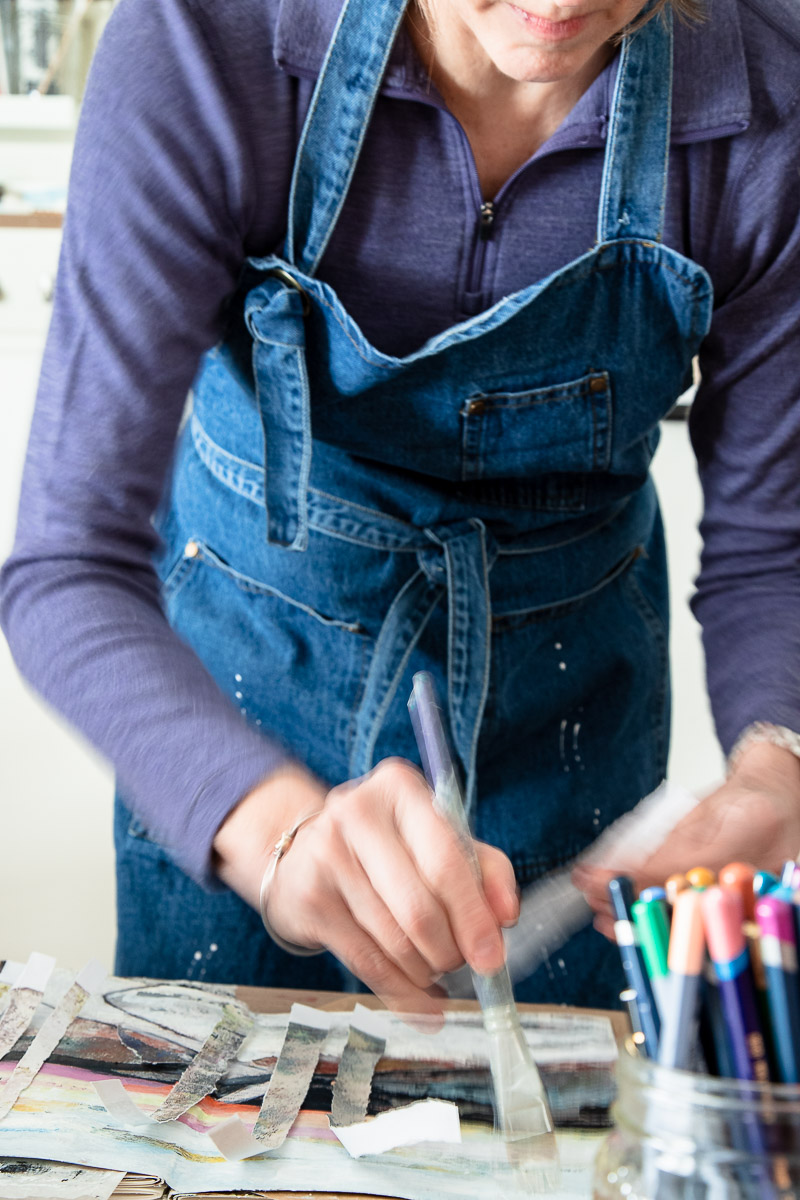 Because I've been spending the lion's share of my time writing, I created monthly projects that revolve around an abstract theme. It's my way of reminding myself to step away from my computer every now and then, and to play with my camera, my paints, and to write for fun. For January I chose "hope" as a way to kick off 2021.
As part of a poetry workshop, I wrote a poem which I'm mostly happy with (poet – I am NOT). It explored the idea of sunrise on newly fallen snow as a symbol of hope. Using the same idea, I've taken photos (even venturing out with my big-girl camera), and worked on an art journal page which I had serious doubts about mid-way through. This journal entry sums it up best:
"My art journal page is a hot mess! It's hard to see how it will come together – but I think it will – and if it's terrible, it's not finished.
That's the way art journals work. 🙂 "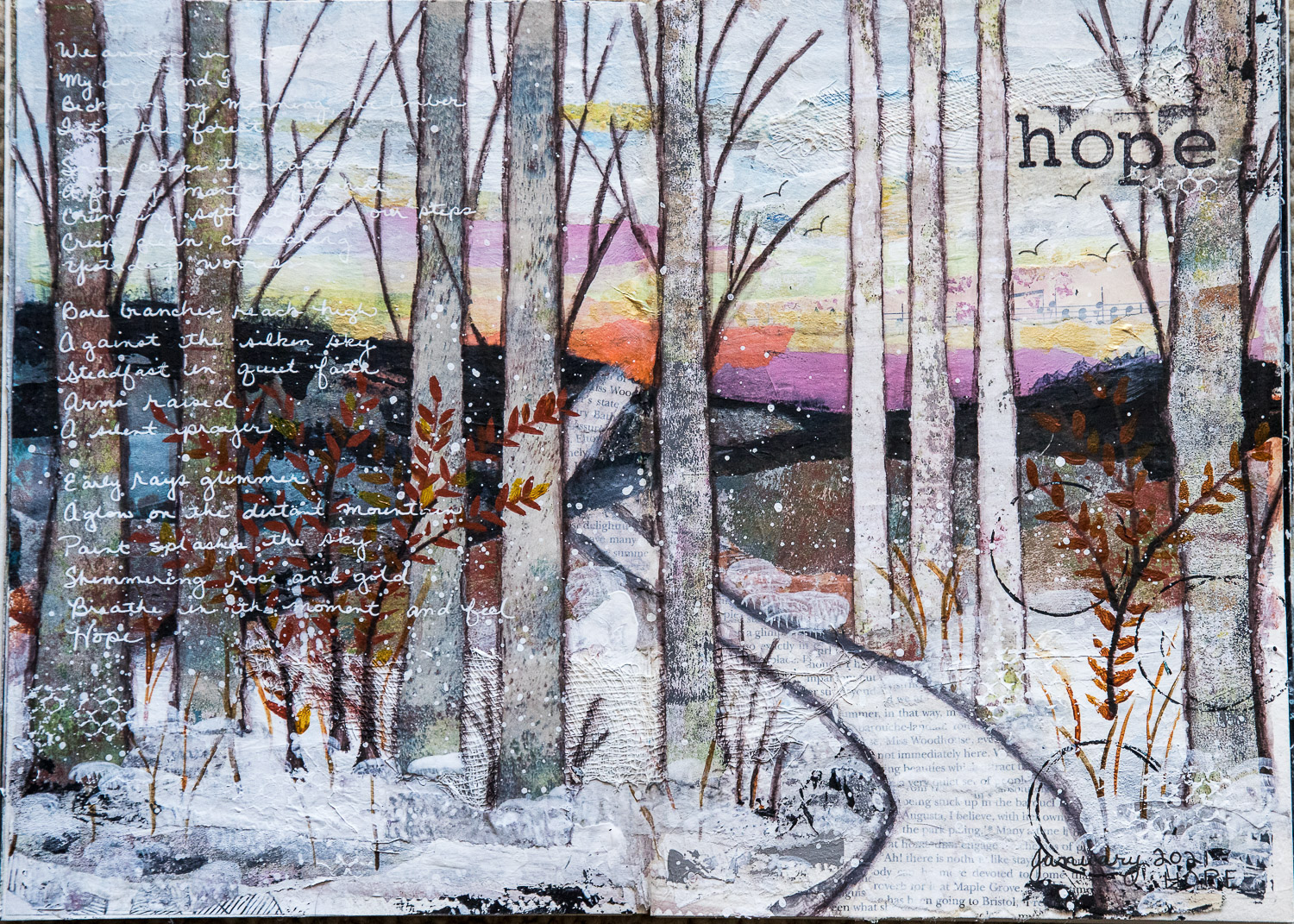 Indeed.
If there's one thing that writing and art have in common – it's the need to work your way through that messy middle.
(Lots of collage, lots of color, lots of texture, and most importantly – lots of fun. Masterpiece, it is not – lol!)
Bookshelf
December reading was all about the RomCom, and January found me diving back into mysteries – two of which took me to the French Alps. Since they were both thrillers, I was pretty happy to be visiting safely snuggled on my own couch.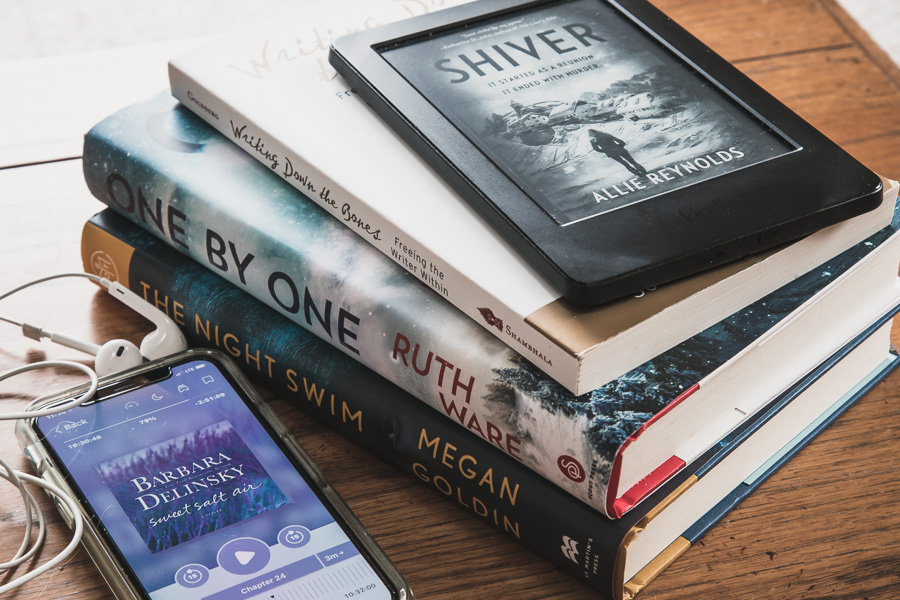 Shiver, by Allie Reynolds is the recently published debut novel of an author I met on Instagram. I had no idea competitive snowboarding could be so deadly, but knew I'd love her story, and I did!
One by One, by Ruth Ware followed a group of mostly untrustworthy people who found themselves snowed in by an avalanche – brrrr.
Not pictured – I am also beta-reading Do Not Spare the Angels, by Cobie LaJeanne. This novel is a not-yet-published (but hopefully soon-to-be-published) thriller by an aspiring author. So far, it's a page-turner – I have high hopes for my talented friend!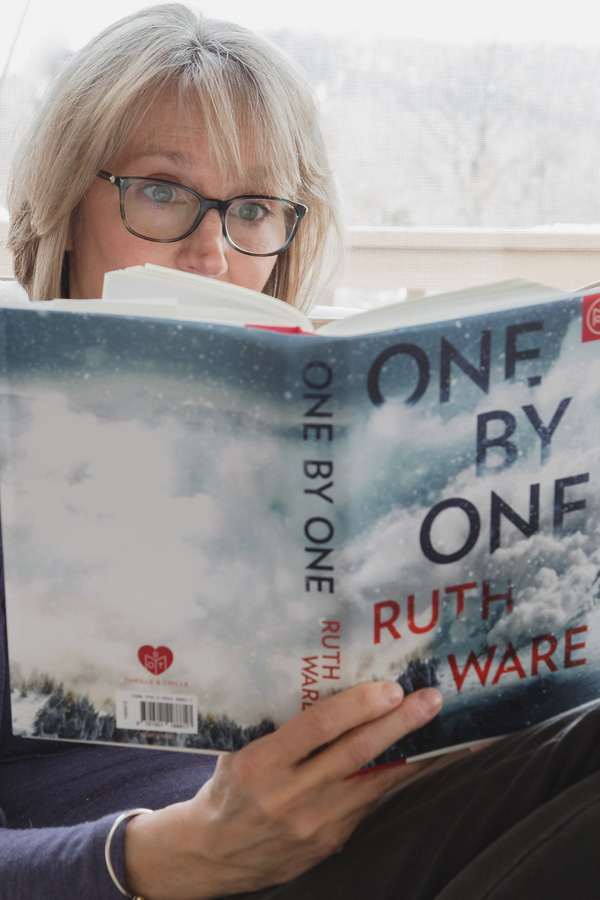 I'd love to hear how you're doing! Have you made goals/plans for 2021?
Next month – I had been planning on "Inspiration" as my theme – but happened upon the word "Enchantment" and became – well, enchanted!
Take care!