Real life stories – that was the last assignment for my photography course. I aimed for a project that I could shoot every day over the course of a week. Reading about some awesome projects that my classmates were planning… the only thing that came to mind was "morning coffee". No matter my plans for the day, no matter where I am, and no matter how hurried – I always make time for a cup of coffee in the morning. Seems simple enough – I think.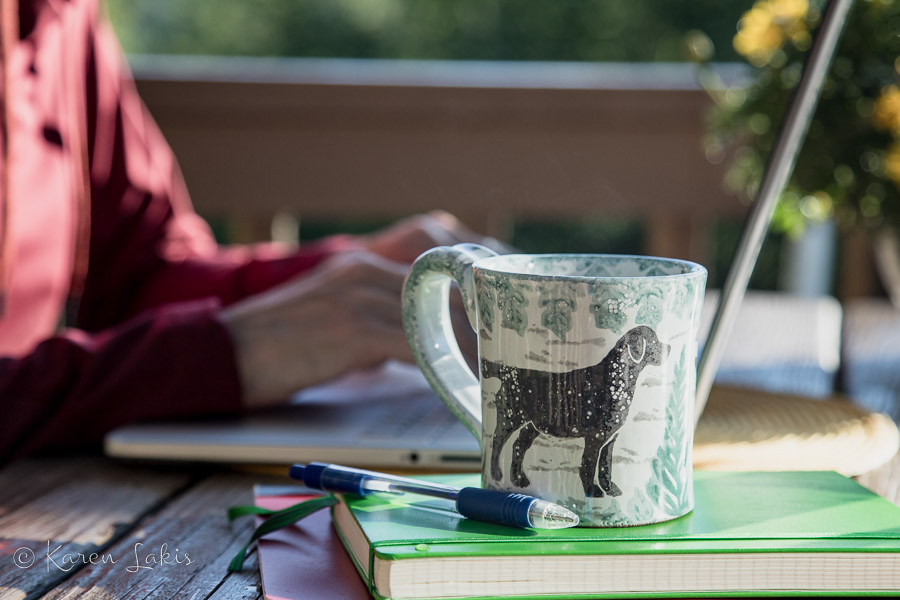 At first, I wondered – how many ways can I shoot a cup of coffee?
As it turned out, each day was a little different from the rest and I worked with each morning as it came.
And then, as my week of "everyday coffee" came to a close, one of our group members suggested making our morning cuppa a group project for the next week. Honestly, I thought I had done all I could do with my morning coffee, and felt as though I not only needed new ideas, but seriously needed to up my game.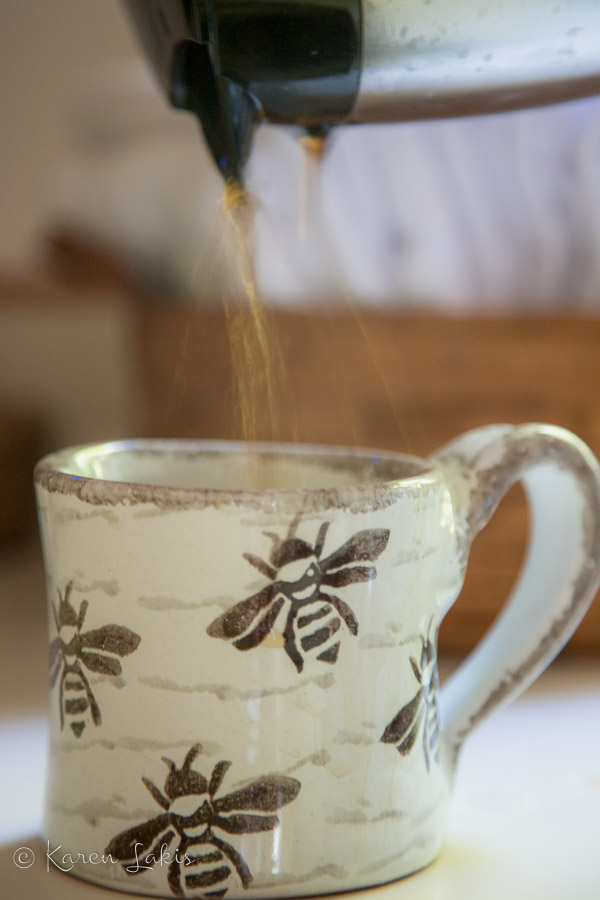 But it wasn't like that. Photos were posted each morning by our group members – everything from beautifully styled scenes of morning coffee to the hurried cup while getting ready for work. Some were make-believe, others, real-life. I posted all "real-life" scenes of my morning. Yeah – nothing says morning like splattered coffee. So much for my attempts at styling that "perfect" photo.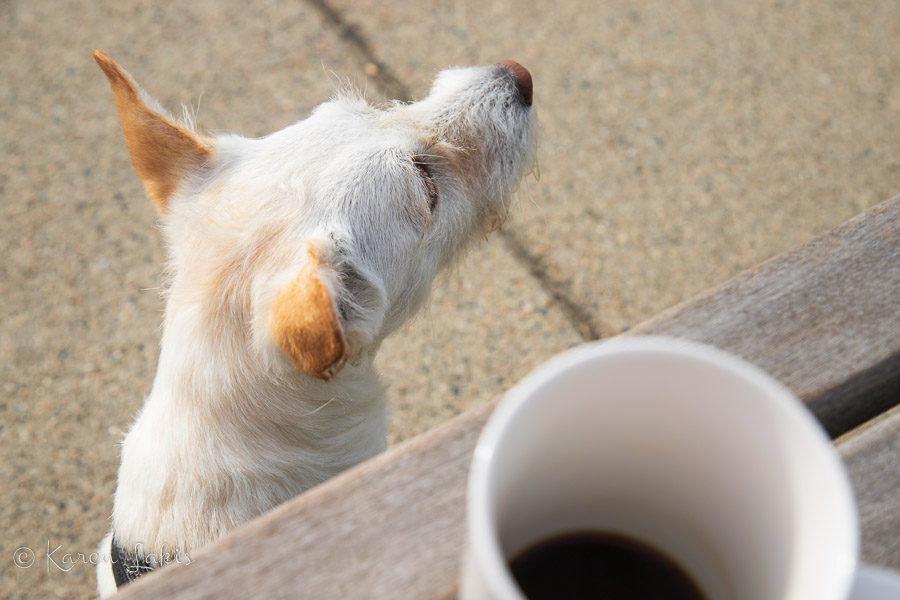 We shared stories of treasured coffee cups, morning adventures, the hectic rush to get to work, cups enjoyed while relaxing on a flower-filled patio. One morning at my daughter's, I planned a quick walk to the beach for a bit of quiet – until – I caught the pleading look of grandpup's woeful puppy dog eyes. Needless to say, very little went as planned on that outing.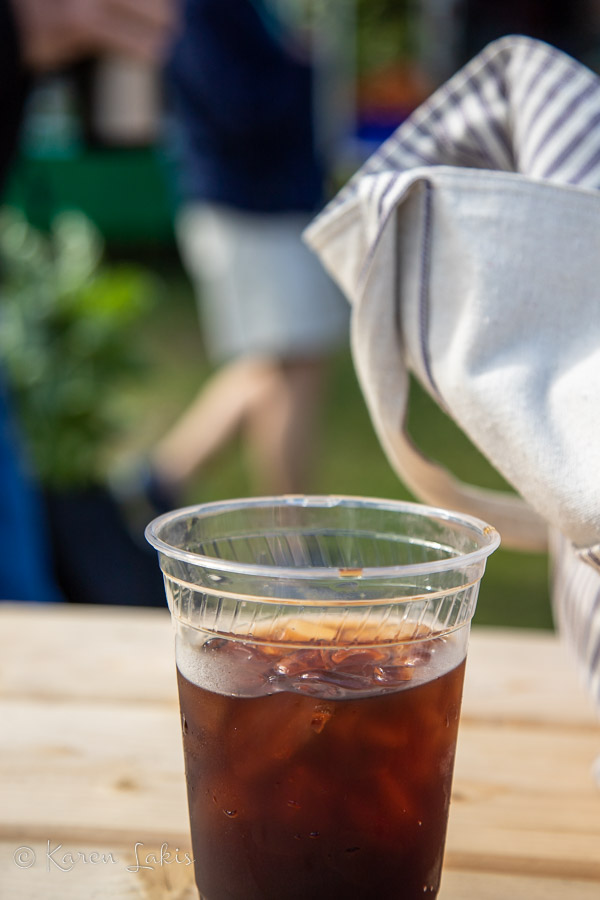 On Saturdays – a morning cup of cold brew while enjoying the sunshine and scanning the stalls at local farmer's market. This has become a weekly habit as I enjoy exchanging greetings with our local coffee roaster.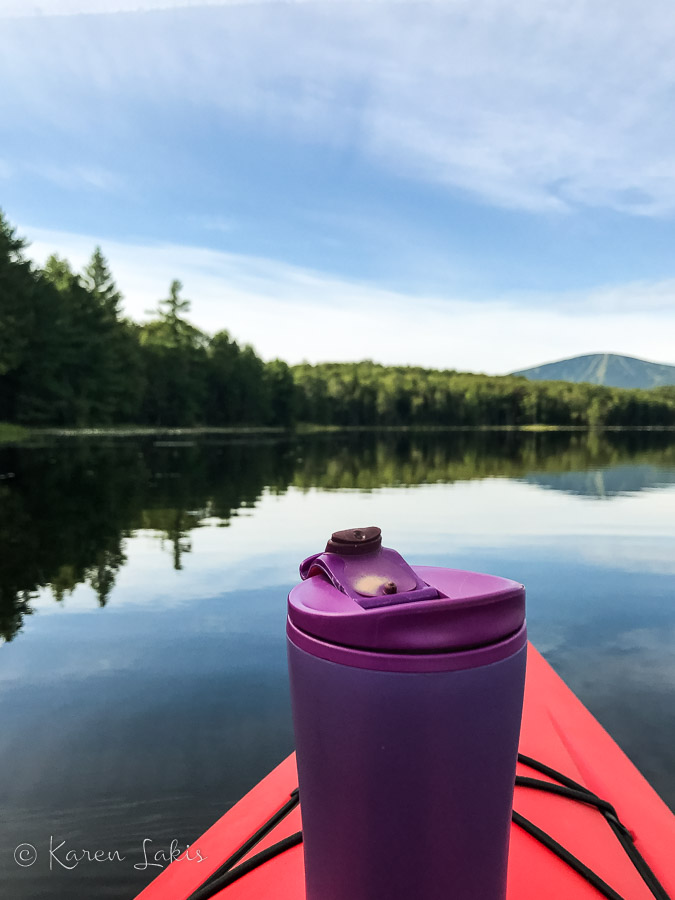 After dragging my weekend guest away from her cozy cup on the couch, we enjoyed a warm cup on the lake in the chilly early morning air. She thanked me for it later… silently…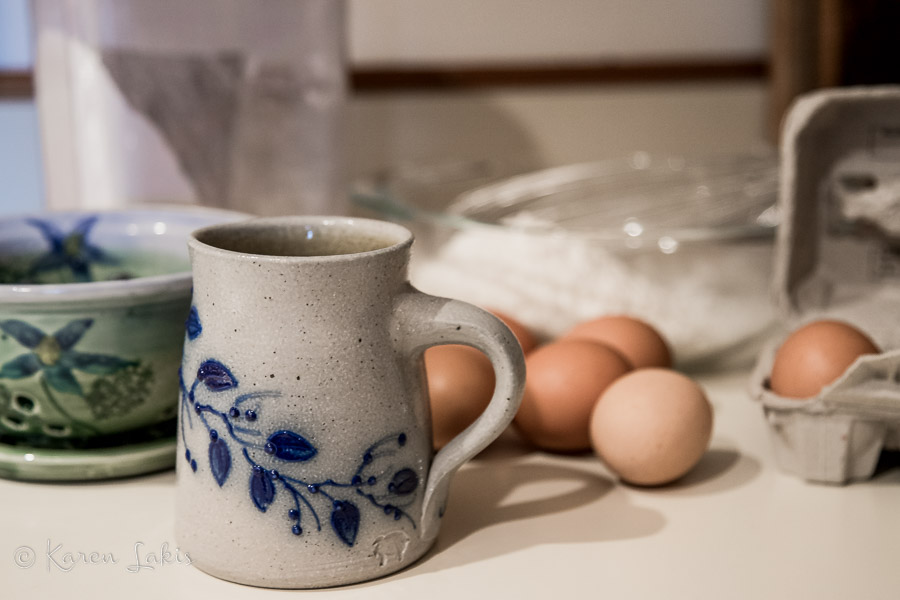 And – I made it up to her, the next day, with some blueberry pancakes and farm-fresh eggs.
It was through this group project that I learned about so much more than simply shooting a cup of morning coffee. Each photo telling a story – offering glimpses of everyday life. I looked forward to checking our group feed – the photos and stories we shared, like our own remote coffee klatsch.
Our next module in this class – which I should have started yesterday – is about "the styled shoot". Ummmm, I'm still thinking about this one – as in, no project plans – yet… But then, as I reflect on our recent coffee adventures, I will remember to ask myself – what will my story be? Because – as I continue to find my own photography "style", I am pretty sure it has something to do with glimpses of the everyday and the story I want to tell.
How about you – what do you enjoy shooting most?
I hope you have a wonderful week!