absorbed in thought; meditative – which is not the same thing as overthinking – or so I think
Random thoughts – random photos
Ever since my old point-and-shoot bit the dust, I've missed having a pocket sized camera in my bag – and no, my iPhone doesn't count. Worried that I didn't have a camera for our upcoming bike trip, Greg bought me a new one for my birthday 🙂
I've been having fun playing with it – pointing, shooting, and not overthinking every shot. While it doesn't replace my Rebel, it's a pretty nifty toy.

I am learning the value of silence during times of frustration…
There have been lots of those.
I attempted joining an online daily meditation program – attempted, as in I joined, but only lasted about four days. My mind doesn't quit or quiet, sigh… Someday, I will give it another try; but right now, it just feels like one more thing… So, in an effort to be a little more mindful, each morning I set a "daily intention" for myself – giving my day focus.
Misty mountain morning walks…
If I knew how to capture the feeling of this misty background in a paint color, I would wake to it every morning.
Is it odd that I am so utterly captivated by backlighting?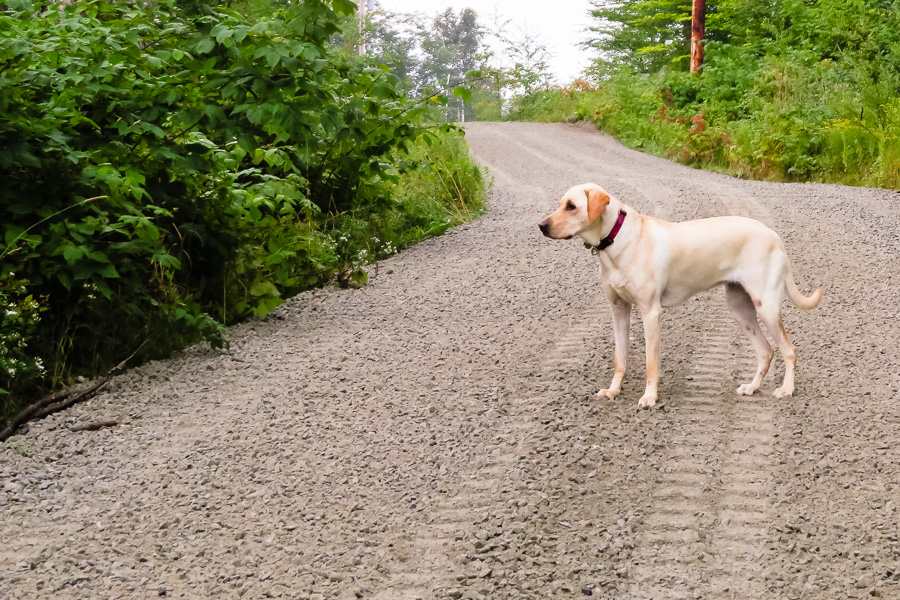 We've been busy working on lots of little home improvement projects – painting, carpeting, cleaning, organizing… In my current minimalist mindset, there has also been a good deal of tossing, donating, gifting… With each wall hanging or knick knack that I remove, I feel a bit lighter. And, I am finding that I enjoy our belongings so much more, with fewer of them. Each one speaks a little clearer, when not surrounded by clutter.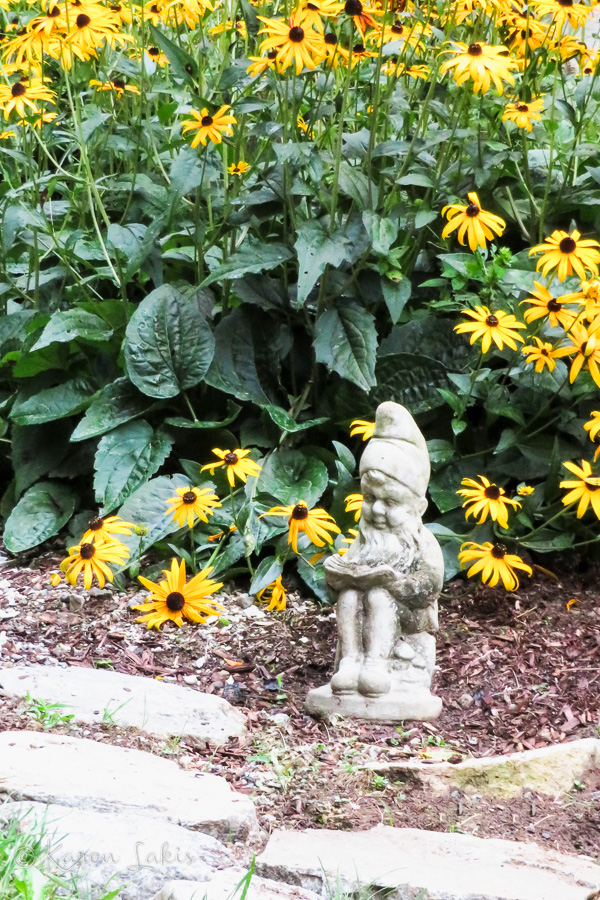 And then, walking back up my driveway after our morning walk, Chessie and I are greeted by this little gnome. He is living my best life – reading among the flowers (unconcerned by all those weeds which are making me a little bit nuts.)
I've been reading, also:
Shoot First (Caught Dead in Wyoming #3), Patricia McLinn – What can I say? I like the setting, Wyoming
Still Me: A Novel (Me Before You Trilogy), Jojo Moyes – Fun read, and reminder to trust in yourself; things will work out
Less, Andre Sean Greer – I'm currently reading this one, it's odd – I'll let you know how it goes…
Please tell me it isn't really September, already!
We head to Michigan on Friday for our much anticipated bike tour. I am a little nervous that I am not physically ready, but am looking forward to a week of riding and unplugging. There's a saying "Train for the ride, or train on the ride" – I guess I know which I will be doing…
Anyway – that's all for me. I'd love to hear your random (or not so random) thoughts, too!