The last day of December, driving home from our week in Vermont –  a million things running through my mind as I prepared to return to our weekday routine. I was wondering to myself how the month had passed by so quickly, what 2018 might bring.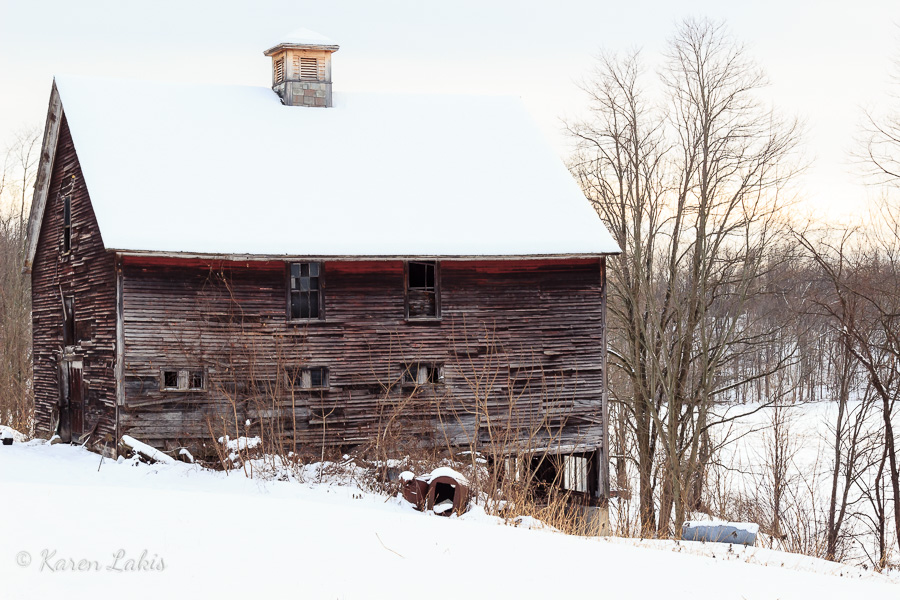 December always feels like two separate stories, to me. The frenzied, busy time leading up to the holidays – Christmas shopping and preparation, work deadlines, travel plans, family celebrations… And then, the second story – the quiet week after Christmas. While I love the family get-togethers, it is the second story that I anticipate the most. A time for lots of reading (I finished one book), exploring outdoors (not so much), cooking and/or baking (nope), watching movies (does Moana count?) – a time to rest, relax, and reflect (yes, yes, and yes).
It was bitter cold in Vermont, and I was content to act like a bear and hibernate. I created new pages for my journal, contemplated new photography projects, and considered goals I should set for myself for 2018. Is there a deadline for that?
So – driving back home on that last day of December – unhurried, we followed the back roads. Lost in my own thoughts, I spied the dilapidated barn with broken windows on this harsh winter day. My final photo of 2017 – at a glance, desolate and bleak, but I also see strength, perseverance, grace…
Too tired and too much happening, Greg and I didn't celebrate the new year as we normally do. Our year began on a sad note with the illness and passing of my father-in-law. We will miss him, dearly. I look forward to 2018, though – the changes, the challenges, the celebrations that a year normally brings – greeting it with strength, perseverance, grace, and eventually, joy.
I am joining Sarah and León for one last Scene and Story – thank you for hosting over the past year!